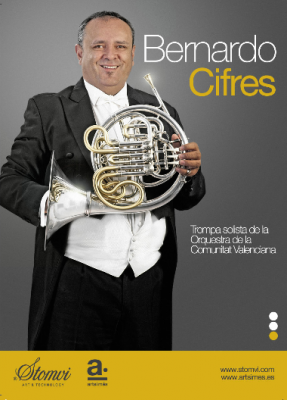 Began his musical studies at the Musical Union of his hometown (Carlet-Valencia/Spain) and at age 11 he starts at the horn with D. Manuel Campos. Later he studied with teachers D. J.J. Llimerá and D. J. Rosell. Gets Elementary Honorable Mention of Grade and a scholarship from the Santiago Lope de Valencia Foundation. He has done courses with many teachers: Zarzo V., F. Burguera, J. Molnar, D. Clevenger and E. Terwilliger, with who still works since 1995. He has also studied natural horn with teachers: J. Renteria and T. Van Der Zwart.
 He has performed with the Orchestra of the Conservatory of Valencia, Camerata del Prado in Madrid, Colegium Instrumentale of Valencia, Symphony Euskadi, Turiae Camerata de Valencia, Bilbao Symphony, Symphony Castilla y León, Royal Philharmonic Orchestra of Galicia, City of Granada, Symphony Galicia, Munich Philharmonic, Orchestra of Navarra – Pablo Sarasate, Orquestra Contemporanea 216 Barcelona, Asturias Symphony Orchestra, etc. …
As a professor he has worked in the C.E.M. Juan Antxieta of Bilbao, and at the Conservatory "Jesus Guridi" from Vitoria. Well as with Youth Orchestras: JOGV Youth Orchestra of the Generalitat Valenciana, JONC National Youth Orchestra of Catalonia, JORCAM Young Community of Madrid Orchestra, etc …
He has also been professor specialist in "Analysis and Interpretation Musical" at the University of Oviedo. Currently he is Professor of International Music Academy High Performance "Maurice André" of Lliria.
In August 1989 was horn soloist in the "Banda Municipal de Bilbao", and from August 1990 to October 2004 was professor of horn of the "Symphony Orchestra of Bilbao". In season 2005-2006 was first horn of the Symphony Orchestra of Navarra – Pablo Sarasate.
He has performed with conductors such as Yaron Traub, Günter Neuhold, García Asensio, Manuel Galduf, Gilbert Varga, Ros Marbá, Enrique Diemecke, Juanjo Mena, Andrass Schiff, Junichi Hirokami, Lorin Maazel, Zubin Mehta, Valery Gergiev, Vasily Petrenko, Christian Vasquez, Gianandrea Noseda, and Ricardo Chailly among others
Since its founding in September 2006 is resident soloist of french horn of Orquestra de la Comunitat Valenciana, Palau de les Arts "Reina Sofia". And from 2013-14 is Chair Professor of French Horn at the Superior Conservatory of Aragón-CSMA.
Currently he is artist Stomvi and play with the new hornStomvi "Titan Five" with which has contributed to its evolution and development.