THIRD EXCHANGE: 9-13 MAY 2011
Visit to Hanns Eisler Academy, Berlin from students from Alcañiz, Huesca and Zaragoza conservatoires and their teachers.
Activities  during the trip: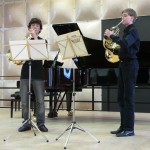 Lessons  by ML Neunecker to Spanish students.
Workshops.
Attendance to classes of ML Neunecker.
Selection of ML Neunecker ´s students and choice of repertoire to play in the performances of the Spanish visit.
Performances of ML Neunecker ´s class&Spanish students.
Attendance to opera and Symphony orchestra performances.
        ..
..